Dr. Cosh has completed extensive additional pediatric and prenatal training hours to attain her C.A.C.C.P. degree, specializing in safe and effective pediatric and prenatal chiropractic care and management.
The time period between birth and age two is the most dynamic phase of brain and neural development in humans. As your child develops, they undergo approximately 50% of their total spine growth and 60% of their total brain growth within the first year!
The concern that many parents have is that chiropractic adjustments will be too forceful. They mistakenly think that their child will receive adjustments like one ones they receive. Not only are adjusting techniques modified for each person's size and unique spinal problem, a child's chiropractic adjustments are specifically geared to be gentle, comfortable and effective, making the experience positive.
Knowing exactly where to adjust, newborns and infants are adjusted with no more pressure than you'd use to test the ripeness of a tomato. Many parents have commented that they see almost instant improvements in the well-being of their child.
Early interference to the Nervous System (difficult birthing, assisted birthing such as C-sections, childhood trauma, etc) can create permanent impairment on a child's developmental capabilities. Over time these neurological impairments could affect hormonal, immune, neurological, homeostatic, cognitive, behavioral and functional capacity of the child.
Dr. Cosh has completed extensive additional pediatric training hours to specialize in the safe and effective care of your children.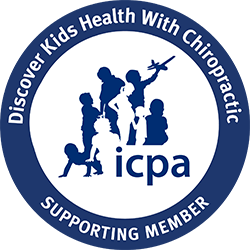 We believe that healthy kids make healthy adults!! This is why we encourage parents to have their children checked as early as possible.
Children's Chiropractic Safety Research:
The ICPA has initiated a ground breaking study on the safety and effectiveness of chiropractic care for children. The preliminary results are outstanding and show that chiropractic care is safe for children. Even more significant is that parents reported three unexpected improvements with their child's care:
Improved sleeping

Improved behavior and attitude

Improved immune system function
In fact: Many research studies show chiropractic care being helpful for colic, ear infections, erratic sleeping habits, bedwetting, scoliosis, "growing pains" and many other common childhood health complaints.
Chiropractic care for children offers your family a solid foundation for wellness.
Throughout pregnancy, birth, and childhood, the chiropractic lifestyle offers choices and benefits for your greater health and well-being.
---